As a result of the Social Housing Decarbonisation Fund the government aims to improve the energy performance of greener social homes in England.
Tens of thousands of people across England are set to benefit from warmer, greener social homes, with social housing providers given the chance to bid for government funding to make major improvements to their stock.


12408 homes Total
1944.90% Increase from March 2022 to June 2023 means Eco Friendly Properties will soon become the standard within the UK.
By Geographic Location
What's interesting about the scheme fund is that eco-friendly social and private homes were being built in the North East in a UK-first can is reflected in the data below.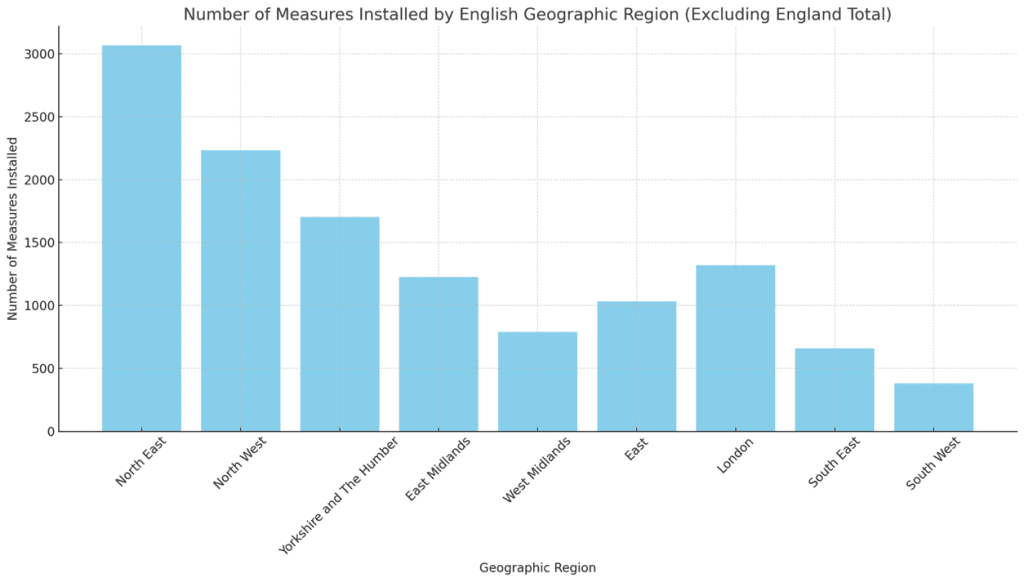 The new eco-homes boast solar panels, extra insulation, heat pumps, triple glazing and under floor heating that developers say make them better for the planet.
As a result of these current developments it is expected that those living in upgraded properties will save between £300 and £500 on their energy bills each year, something worth noting during the current inflationary times.
To beat the competition regarding the sell your house quickly most certainly will now see the prospect of going eco friendly. Before it becomes the new standard it most certainly is a great incentive.
Final Words
The new standard by 2025 will be to ensure that all new homes  produce at least 75% lower CO2 emissions compared to those built to current standards, with homes future-proofed with low carbon heating and high levels of energy efficiency